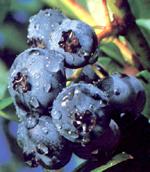 The blueberry is a fruit that grows wild in fresh areas of the N hemisphere. It is a bluish-black, rounded berry measuring 6mm of diameter. It is mainly consumed in jams, cakes or as garnish for various dishes. It is rich in vitamins and it supplies very few calories.
The blueberry pulp is aromatic, juicy and somewhat acid. It contains multiple small brown seeds. In the upper part, this fruit has a small crown that differentiates it from the black currant.
The blueberry is eaten as table dessert, although it is chiefly intended for the processing of several product like jam, puree, stewed fruit, jellies and juices. It is also dried and frozen. In some countries it is even fried or cooked for making soups.
As raw fruit they are part of fruit salads and they are eaten with cereals, crepes and waffles. They are eaten with cream, orange juice or with a drop of Grand Marnier, a liquor made with orange. The cranberries are used to make buns, bread, pies, cakes and sherbets. They are garnish for turkey dishes.
The blueberries are rich in vitamin A and C, and they supply very few calories, since they contain few fats and proteins. They are rich in anthocyans, some substances that are beneficial for the digestive apparatus.