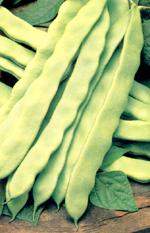 French bean is one of the highly consumed and appreciated vegetables in our market, sold all the year round, since it is perfectly adapted to greenhouse culture.
French beans, kidney beans or string beans, Phaseolus vulgaris (Leguminosae), are cultivated for their dried seeds or their fruits and their physiologically unripe seeds. In Spain, when they are consumed dried, they are called kidney beans or string beans; they are called " green beans" when they are consumed unripe.
It has several applications, since once cooked is eaten in salads, sautéed as a vegetable dish; with French dressing it makes a refreshing and delicious meal. In any case, French beans are the ideal garnish for meat and fish dishes.
The fruit is a coloured vegetable, of variable shape and size, with 4-6 seeds inside. They are green-coloured, yellow mottled with brown or red on green, etc. although the most demanded by the consumer are the green and the yellow ones, both the cylindrical as the flat shape.
Among the existing varieties there are two well-differentiated: the ones with a wide and flat
pod
, and the ones with slender
pods
, slightly flat or cylindrical.
French beans contain some seeds; the lesser the seeds are marked on the pod, the greater the quality of the fruit.
French beans are nutritionally important for their high content in proteins and carbohydrates.
They also contain vitamin A, B and C; phosphorus, silica and calcium; carbon chlorophyll, carbohydrates, trace elements (nickel, copper, cobalt).
The energetic value does not exceed 18 calories for each 100 grams of fruit, offering, from an nourishing point of view, a significant nutritious value, in regard to the mineral elements that it contains.
It is one of the most appreciated and consumed vegetables in the markets, being of great economic and commercial importance in those countries with suitable climate.