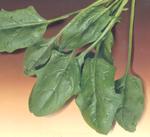 Spinach (Spinacia oleracea) is a herbaceous plant whose leaves, green and arranged in rosette, are eaten raw or cooked. The leaves have an oval shape and are wrinkled; they can be whole or sawed. It is a very nutritious, tasteful and easy-to-digest plant. The Arabs regarded it as the queen of vegetables.
Like most of the leafy vegetables, it has a great content of water and a low percentage of proteins, carbohydrates and lipids. It stands out for its high nutritional richness, since its vitamin and mineral content is higher than the rest of vegetables. It is one of the richest vegetables in calcium, magnesium, iron and potassium, as well as in vitamin A, C and folic acid. However, its richness in oxalic acid represents a problem since this compound interferes in the absorption of calcium, sodium and potassium.
Spinach are available in autumn and spring. They can also be found during the summer months, although their quality is somewhat inferior. They can be frozen, so they can be consumed like this all over the year.
It is recommended to choose fresh spinach of dark green and uniform colour. At home, they are kept in the fridge for 15 days, in a perforated plastic bag.
Spinach is a highly perishable vegetable and does not keep its quality for more than two weeks. The optimal conditions for its storage are temperature around 0ºC and a percentage of 95-98% of relative moisture.
This is one of the most consumed and popular vegetables. It is a basic ingredient of the spinach cream and the dish called "espinacas a la catalana', which combines raisins and pine nuts. It is also consumed in soups.