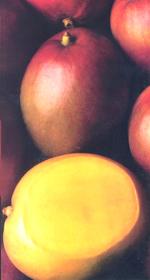 Mango (Mangifera indica L.) is considered to be one of the 3 or 4 mildest tropical fruit. It is obtained from the tree with the same name.
It has an ovoid shape, non-edible rind and variable colour, from of pale yellow to dark red. The pulp is sticky and its coloration ranges from yellow to orange. The taste of ripe mangoes is sweet, and quite acid when still green. It is a juicy and fibrous fruit, with a stone inside. Its size oscillates between 5-20 cm long, weighing between 300-400 g, although some of them may get to weigh one kilo.
Mango is also known as "tropical peach' for its orange colour and pleasant taste. The most trustworthy sign of its maturation is its smell. If we press the fruit when ripe, the fingers deepen easily.
For its extraordinary taste, aroma, colour and texture it is ideal fruit to be eaten on its own, in fruit salads, to make sherbets, cakes and jam, to mix in salads and even to cook it as seasoning for meat and fish. In India, green mangoes are the basic ingredient to make the traditional chutney.
Mangoes are laxative and highly nutritious. They are an important source of vitamin A and they have a small content of vitamin B and C.
Each 100 g of edible mango provide with 60,28 kcal, 0,5 g of protein, 0,10 g of fat, 15,30 g of carbohydrate, and 1,50 g of fibre.
Among the minerals stand out the iron, but it also supplies potassium, phosphorus, sodium and calcium.
Ripe mangoes do not withstand transport very well because they are very sensitive to bruises and they get damaged by low temperatures (below 13ºC). The fruit harvested when still green reaches maturation at temperatures between 25 and 30ºC.
The optimal temperatures of storage for this type of fruit are 13ºC for ripe and green mangoes; the optimal relative moisture oscillates between 90-95%.
Green mangoes must be kept at environmental temperature until they reach the optimal point for their consumption. If we want to eat it cool it can be stored in the fridge before serving and only the necessary time to cool it.