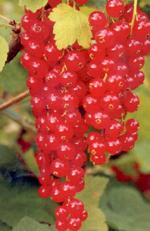 The redcurrants are small rounded fruits of red colour. They may be eaten raw, although their bittersweet taste makes them more suitable for processing jam, milkshakes, ice creams, etc. They are rich in vitamins and minerals.
The redcurrant is the fruit of a shrub. It is a rounded berry of translucent red coloured-skin and bittersweet taste. Apart from the red currant, there exist other species like the black currant, the white currant and the gooseberry, that are differentiated for the type of fruit they bear.
The red currants can be eaten fresh, although they are generally intended for processing, for instance, jellies, jams, custard, milkshakes, cakes, ice creams, juices, broth, liquors and soft drinks.
Currants are healthy food with few calories and rich in fibre, vitamins and minerals. They have diuretic properties and are suitable to treat influenza and other catarrhous diseases.