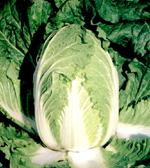 The Chinese cabbage is a vegetable that little by little spreads all over the continents, although in Asia it is a well-known and highly consumed product. They are consumed in many different ways, both raw and cooked, and they supply significant quantities of vitamins and minerals to the organism.
Chinese cabbages belong to the family of the Brassicas, the same as the headed cabbage, broccoli or cauliflower. They are highly consumed in the Far East, known for more than 1,500 years, although in Europe their consumption spreaded during the 1970's decade.
Two types of Chinese cabbages are mainly consumed. One is the 'pe-tsai' type, that forms a lengthy heart similar to the lettuce, whereas the 'pak-choi' type bears loose leaves that are similar to a beet. There are different varieties of these two types of Chinese cabbage that are adapted to the year's seasons; therefore, they are available all the year round.
Chinese cabbages are consumed raw, mainly in salads, or cooked in soups, meat or vegetable stews. They are an important source of vitamins and minerals. Besides, they are low in calories and rich in fiber, reason why they are suitable in hypocaloric diets.