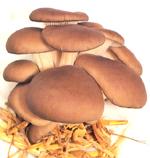 Mushroom is a
fungus
formed by a cap of half-spherical or flat shape and a cylindrical stem, normally white.
It can be consumed raw or cooked in multiple dishes and it is highly recommended in low caloric diets.
Mushrooms consist of a fleshy cap of semi-spherical or flat shape, with a pale brown-greyish cuticle, first whole and afterwards with large scales on a pale background. In the lower part there are many narrow
laminae
, released from the foot by multiple small
laminae
, of a dark pink colour when young and brown-reddish in the adult period. It has also a cylindrical stem, wide in the base and usually white.
Mushrooms are eaten fresh and in preserve, raw or cooked, as part of salads, fried or roasted and as garnish in many dishes or even sauces
It is extremely rich in water, proteins and fibre. It is also a source of vitamin of the B group. It is highly recommended in low caloric diets.
Mushroom is marketed all the year round and is a highly perishable product. It is perfectly kept for 1 or 2 days at environmental temperature (18-20ºC) reason why it is very important to keep them cooled.