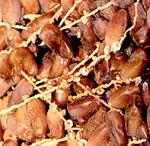 The date (Phoenix dactylifera) is the fruit of the date palm. It is a berry of golden yellow colour or reddish-brown when ripe. Its meat is soft, aromatic and sweet, with a stone inside it of elongate shape and with a longitudinal furrow.
Dates are consumed fresh or dry and represent a basic food for the inhabitants of North Africa and Near East, who are the main producers.
These fruits have a similar taste to honey and grow in clusters in the crown of the tree, around 25 m high.
In North America they are related to sweet meals and in the Arab countries they are eaten stuffed, crystallized, distilled, in salads and with couscous. In India they are used to prepare chutneys and curry. In the Sahara oases and other parts of North Africa they make date cakes intended for feeding the groups of travellers. In the Middle East they make the palm wine or toddy by means of fermenting the sweetened sap extracted from the crown of the date palm.
Dried dates are kept in fresh and dry places for several months, even a year. The soft varieties are stored in the fridge for two weeks. The optimal relative moisture of this fruit is between 70-75%.
They have a great nutritional value that lies on its easily assimilated sugar content and proteins, calcium, phosphorus, iron and vitamins of the B and A group.