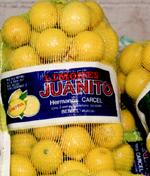 The lemons are packages in multiple ways. In the supermarkets they are usually found in bags or meshes of 1.5, 2 or 3 kg or in boxes up to 15 kg of capacity for free selection. It is also usual to package them in expanded polystyrene trays with plastic film.

The fruit, once harvested, is put in plastic boxes of 18 kg of capacity and they are transferred to the preparation warehouses. In other countries, such as Brazil or Argentina, the fruit is spilled in bags of 400 kg, which are transported to the warehouse.

The lemons are transported and sold in wood boxes or mesh bags. In supermarkets, stores, etc., they are usually sold in boxes, bags or meshes up to 1, 2, 2.5, 3 kg of capacity.

Some lemons are wrapped in a thin paper indicating the brand. According to the standards, this paper has to be new, clean, non-toxic and has to be put in the correct direction and properly adhered.