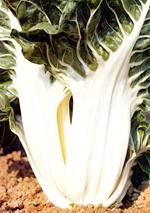 The chard(Beta vulgaris var. cicla) is a plant with large green leaves and fleshy white stalks, used for human nutrition.
It is usually eaten cooked and seasoned like boiled food, or as meat or fish garnish. Its taste is similar to that of spinach but somewhat smoother.
As with the rest of vegetables, it is recommended to consume it as soon as possible, since it looses nutritious properties soon after harvesting. It is kept in the fridge for no more than 4 days; storage conditions improve if we introduce the unwashed leaves in a perforated plastic bag.
Its nutritious composition for each 100 g of fresh produce is: water 91.1%, fats 0.3%g, fibre 0.8 g, iron 3.2 mg, calcium 88 mg, vitamin A 6,500 UI, vitamin C 3.2 mg. It is a laxative and digestive plant; it is one of the richest vegetables in calcium after spinach.
They are sold in the markets all over the year and they are found fresh or frozen. The best units are those with smooth, bright and uniform green-coloured leaves. The stalks must be hard and of a white colour. They are highly recommended in slimming diets since they represent a very low caloric supply. However, people suffering from gall or kidney stones must limit the consumption of this vegetable, since they contain high levels of oxalates.
Exports in most places insignificant. In Spain, some years ago, the value was relatively important and the vegetable was mainly destined to France.