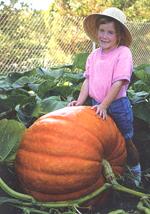 The species belonging to the group of pumpkins, within the cucumber family, are the common, courgettes, winter and summer squash and large pumpkins.
This denomination includes a series of species and botanical varieties belonging to the genus Cucurbita, whose main application is the consumption of their mature fruit, as much cooked as for making jam, pies, etc.
Some of them, specially some of the cultivars, are used as cattle food. In some Spanish provinces their seeds are directly consumed and in certain Asian countries they obtain an edible oil.
The pumpkin's flesh is eaten cooked as a vegetable, fried, au gratin, together with sauces and as garnish for several dishes. However, this flesh is somewhat insipid so it is usually seasoned with aromatic herbs. The winter varieties are widely used in confectionery. Pumpkins are cultivated both for the fruit as for their seeds, which can be consumed as dry fruits or used to obtain fuel oil and cooking oil. The leaves and the flowers are also consumed as vegetables.
Pumpkin is a voluminous
berry
, generally spherical, which has a thick rind, an hexahedric
peduncle
and pulpy flesh filled with seeds. It is impossible to refer to the colour of its rind since there is a wide range of colours according to the varieties. Red, green, yellow, black, white, orange, grey, blue and a mixture of one and another garnish the rind of this fruit. Moreover, there is no end of shapes: bottle-shaped, rounded, elongate, squashed, tapered, even, rough, oval, square, irregular and unimaginable.
The supply of minerals and vitamin A are quite significant, reaching 5,000-6,000 U.I.
Pumpkins are harvested ripe and they are usually left to sun-dry before their storage. They are normally stored at a temperature of 10-15ºC and relative moisture oscillating between 50-70 %; in these conditions they are kept for more than 6 months.