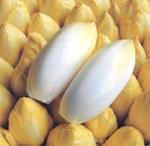 The witloof chicory is a vegetable used in salads, growing from chicory roots kept in warm places, protected from light. The leaves are consumed as a vegetable. They are of a white or yellowish colour, crispy, refreshing, having a slightly bitter taste. Nevertheless, this bitter taste has been reduced to a great extent in the modern varieties.
It is also known as "Brussels chicory", "witloef" or "witloof", that means "white leaf' in Flemish. Its bitter taste makes it a vegetable to be appropriately combined with cheese, ham or sauces.
This vegetable has a scarce energetic value since it has a low content of glucids, proteins and lipids. This is why it is used in dietary therapies. It is considered to be diuretic, digestive, re-mineraliser, tonic and an appetite stimulator.
It represents a good source of vitamin A. It also contains vitamin D and E, as well as small amounts of vitamin C, B1, B2, B3 and B6.
The calcium and phosphorus found in its composition are part of bones and teeth, and along with the potassium, they are necessary for the good functioning of nerves and muscles.
They are kept in the fridge for 5 to 7 days inside a perforated plastic bag. They are not suitable to be frozen.
Chicories are usually consumed raw, in salads, keeping all their nutritious value. They can also be eaten cooked, roasted or fried, along with mayonnaise or sauces. It is traditionally combined with blue cheeses.
Once forced, the chicory roots are also used as cattle food, becoming a forage rich in energy.
It is a vegetable of recent consumption, that has gained popularity all over the European continent. Although its culture is widely spread in France, Belgium and the Netherlands, in Spain it is hardly consumed. Nevertheless, it has experienced a certain growth in the last few years, and at present there are some modern facilities of
forcing
.