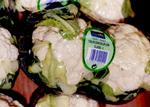 Cauliflowers are usually prepackaged with plastic film, although sometimes they are commercialized without package. For their transport are used trays of different size and capacity.

Cauliflowers are only prepackaged in some cases, specially when they are defoliate. For this purpose they are covered individually with extending plastic films. Baby cauliflowers can be packaged in groups, in plastic film covered trays. In some cases, cauliflowers with leaves are prepackaged in polyethylene bags.

Cauliflowers are packaged wood trays of 50x39cm, containing 6kg, although the standardized package for this species is 600x400x160cm, containing 10kg. However, there is a wide range of packages containing 6 to 24 pieces.