Corn, Sweet corn, Zea mays / Gramineae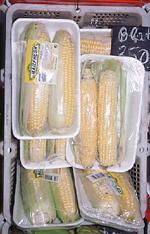 The grains of sweet maize are preserved in tins or frozen in plastic bags.

The sweet maize cobs are retractiled directly or on trays; plastic bags and the tubular mesh are also used for pre-packaging. The pre-packaged cobs may keep the bracts, usually the first " leaf' surrounding the ear, or it may be naked.

Cobs are packaged in bulk in waxed cardboard boxes, water-resistant or in wood boxes containing 20kg.

Maize is also marketed pre-cooked, in vacuum packaging wrapped in plastic.