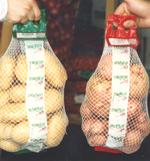 The most usual way to find potatoes is in bags and net sacks, thanks to the wide variety of packing machines that do this work. Among this type of packages there are the tubular mesh sacks of 1 and 2,5 kg and mesh sacks " Girsac" with an external string that acts as a label and as handles, with a capacity of 2 kg. This way of dispatching potatoes is understood as prepackaging, since the buyer must only choose the mesh or bag he prefers. Other materials used for these packages are plastic bags (perforated) or paper bags, used for small quantities: 2.5 (for plastic), 5,10,15 and 25 kg (for paper).

Another way to dispatch potatoes is in bulk; they usually come in sewn net sacks with a capacity superior to 5,10 and 25 kg, and they will be available for the consumer as free service.

Other packages used are cardboard and wood boxes.

Among the cardboard packages we find 6kg packages with a base of 500 xs 300 millimeters, trays covered with net for 2.5kg, 5kg boxes with lateral plastic holes to see the product and superior opening where the fingers are introduced to make manipulation easier, and also 12kg boxes.

Research has been carried out to package potatoes in thermoplastic, checking the good results in quality conservation. Nevertheless, it is a very expensive system for such a low price product as the potato is.