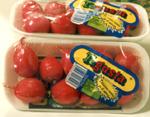 Radishes may be dispatched with or without leaves. In the first case, they form bunches of 10 to 20 units and in some cases the bunches contain half of a variety and the rest of another. Radishes of early cultivars are usually presented in bunches, whereas the ones marketed in summer, autumn and winter are usually defoliated.

Leafy radishes are marketed in pre-packaging using stretchable or retractile plastic film, or in mesh bags. Radishes without leaves are also pre-packaged in plastic or mesh sacks.

In some cases they are pre-packaged using stretchable or retractile plastic coverings (normally with other vegetables as part of a preparation for stew).

The traditional way to present this vegetable had always been in bunches with leaves, until the Netherlands and the United States spread out the presentation in plastic bags, without leaves. This second way of presentation favours the keeping quality because it diminishes the loss of water caused by the lack of leaves and the humid atmosphere inside the bags. For retail sale, radishes are usually dispatched in conical bags of 125 grams.

The type of packages used in different European countries are the following: in England, corrugated cardboard boxes with a net content of 2,7 kg; in Germany, boxes of corrugated cardboard with a net content of 5,9 kg; in France, the type of package used is wood boxes with a net content of 4,3 kg and finally in Spain wood boxes with a net content of 9 kg.