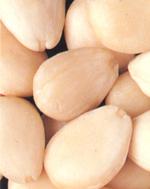 The almond is the edible kernel of the fruit of the sweet almond tree. It is a bright white fruit wrapped in a reddish brown cover.
It is consumed as dry fruit, fried and/or salted.
Many well-known products such as nougat and marzipan are made of almonds.
The almonds that we normally consume as dry fruit, fried and/or salted, are those of the sweet almond tree. They are used as an ingredient for confectionery produce such as nougat and marzipan, sugared almonds, pies, chocolate, ice creams and many dishes and sauces. The popular 'garrapiñada" almond is covered with sugar, syrup or honey, and it is very tasty. Other products are also processed from the almond: flour, cream, horchata (tiger nut milk) and milk. Bitter almonds are not consumed as dry fruit, but from them we obtain oils or essences that are used as seasoning for many dishes.
The almond is a dry fruit that supplies 576 and 626kcal/100g and is a good source of phosphorus, calcium and other minerals which are important for health, like iron.
This fruit belongs to the same family of the plum and the peach, with which it has certain similarity when it has not been yet harvested. It is an oblong
drupe
with an edible seed or almond of sweet flavour and bright white colour when the reddish brown skin is removed.
There are many varieties cultivated; however, sweet almonds can be classified in two groups, those with soft shell and those with hard shell. The bitter almonds used in the industry have an external similar appearance to the sweet ones.
In Spain, the almond is harvested in autumn, around September, although it depends on the earliness of each variety, since at present there are early varieties like the Guara that are harvested in August. It is recommended to preserve them with shell in order to prevent rancidity.