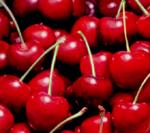 The cherry is a fruit that is consumed fresh or in cakes, mousses, jams and fruit stews. The larger cherries are usually the ones with better taste and texture.
The cherry is specially appreciated by children. It is an amusing fruit because the bone it is very easy to remove and spit.
This fruit, in the N hemisphere, occurs in summer. Out of season it is available in preserve. When we buy fresh sweet cherries, we must choose the heavy, dark red or black ones. In the case of acid cherries, we must choose the pale red or the pinky yellowish ones. In both cases, the stem should be well joined to the cherry.
Cherries are consumed fresh or used as raw material for other foodstuffs such as cakes, mousse, sherbet, jelly, jam, stewed fruit or soft drinks.