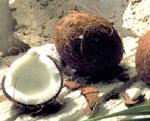 Coconut (Cocos nucifera L.) is a round and elongate fruit of white, fibrous and oily meat covered by a thick, brown and hairy shell. Coconuts are surrounded by a fibrous kernel, inside which is a white meat called copra. When the fruit is still tender it yields a milky fluid that is commonly used as basic food in some zones. There is a predominant use of coconut in the production of copra: the dried kernel of the coconut, from which oil is obtained. The remainders are used as animal fodder. Despite the fact that coconut oil is not one of the most important vegetable oils, it is a
lauric oil
, and as so it deserves a place in the world-wide market. The fruit of the coconut palm is the coconut and it is also intended for processing.
From these palms (coconut palms) we obtain coconuts. Coconuts weigh on the average 2.5 kg and in fact they are not nuts, but fruit in drupes. From these nuts we make ropes and other fibre products thanks to their external fibrous covering. They have an almond inside, consumed fresh or dried, from which we obtain copra. By means incising the coconut palm's inflorescences and gathering the fluid (sap) exuding from them, we make fermented drinks, alcohol vinegar or sugar. The terminal buds of the palm tree are also consumed, fresh, in stews or as a vegetable (Coconut cabbage). From the coconut shell we can make drink containers and other utensils, or we can use it as coal.
The young green coconuts have a lot of milk and very few pulp, but with a very good taste and gelatinous texture; they are highly appreciated in the producing areas for their consumption. Coconuts are a basic ingredient in the Malayan, Indian and Indonesian cooking: the pulp is grated and added to pies, rice, meat or fish. In Europe and other non-producing areas, grated coconut gives an exotic touch to salads and preserves, custard, pudding, ice creams, cakes, biscuits and pies. It is also used for meat, fish or vegetable pastry.
Coconuts provide with many calories due to their high oil content. Their energetic value is around 363.3-669 kcal for each 100 grams of fresh produce. Potassium is one of their most important mineral component. Each 100 grams of edible fresh produce supply between 315-650 g of potassium and 810 g of selenium.
At present, the coconut culture has spread to many temperate areas, and has gained a great commercial value.