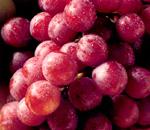 The grape is a fruit that grows in tight clusters. It has a white or purple flesh of sweet taste, eaten raw or in juice, although it is chiefly used for making wine. They are also used to make preserves. It contains various minerals and vitamins, and it is considered to be antioxidant and anti-carcinogenic.
Grapes are fleshy, rounded fruits that grow in clusters made up of many fruits of greenish, yellowish or purple skin. The pulp is juicy and sweet, and it contain several seeds or pips.
It is a well-known fruit; it is eaten raw, although it is mainly used for making wine. Raw grapes are excellent as table dessert, combined with other fruits in fruit salads. Great part of the production is intended for making wines and must, whereas from their seeds we extract the grape seed oil. The clusters are dried to make raisins; besides, there are multiple preserves made from grapes, like caramel grapes, grape syrup, grapes in alcohol and grape jelly.
Grapes supply minerals and vitamins to the organism. They are one of the fruits providing more carbohydrates, although their caloric content is not very high. They contain resveratrol, an antioxidant and anti-carcinogenic compound. From the antiquity, grapes have been given various healing properties.