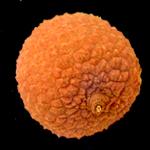 The litchee is a round fruit, of 2.5-4cm of diameter and 20g of weight, native to the east. It is red and the skin is rough. It has a white, sweet and juicy. It is usually eaten raw, although in China it is cooked with meat and fish. It is also used to prepare ice creams or milkshakes. It supplies vitamins and minerals to the organism.
The skin is generally red or pink, covered with small wrinkled protuberances, resembling the strawberry tree fruit. The pulp is white, firm and somewhat hard, carrying a seed inside. This fruit has a sweet and slightly acid taste.
It is usually eaten raw, as fresh fruit, although it is also consumed in fruit salads. In the Chinese cooking, litchees are cooked with meat or fish. They are also used in the manufacture of ice creams. They are dried or preserved tinned in syrup.
It is rich in vitamin C and B and in minerals like potassium, calcium, magnesium, iron, copper and phosphorus. The fruit, the stones and the roots are used in medicine, since it has multiple benefits for the organism.