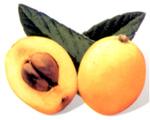 The loquat is a rounded fruit of orange colour that is appreciated for its aromatic, sweet and somewhat acid flesh. It is usually eaten raw, although they are also processed to prepare jams, pies or juices. It barely provides the organism with nutrients, although it contains potassium in a significant quantity and some vitamins.
There are two species of loquat, the European and the Japanese, although the most well-known is the latter. It is a rounded or pear-shaped fruit, with a thin and hard skin, of a yellow-orange colour. The pulp is aromatic, of white or orange colour, fleshy and of sweet, somewhat acid taste. It contains several brown seeds of great size.
Loquat are mainly consumed raw, as fresh fruit. They are also used to process sauce, jellies, jams and confectionery products, along with juices or syrups. In some cases they are stewed; in the Bermuda they make a characteristic liquor.
It is low in nutrients and calories, reason why it is recommended in slimming diets. It provides with potassium and small quantities of calcium, phosphorus, magnesium and iron. It also contains small amounts of vitamin B1, B2, B3 and C.