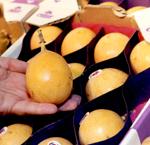 The passion fruit is a tropical fruit that comes from different species of plants of the genus Passiflora. It is consumed for its fleshy, sweet and somewhat acid pulp, with which we can also prepare ice creams, sherbets, juices, etc. It is rich in vitamins and minerals. It also supplies fibre and it is low in calories.
The passion fruit or granadilla is a fleshy tropical fruit obtained from different species of the genus Passiflora, like the purple passion fruit, the yellow passion fruit, the sweet granadilla, the giant granadilla, cholupa, and the banana passionfruit. The size of the fruit varies between 4cm in the case of the purple fruit and 26cm for the giant granadilla, and they may be yellow, orange, green, brown or red according to the species and the variety.
The name of 'passion fruit' was given to the fruit by the Jesuit missionaries in the XVIth century, that saw in the flower the marks of Christ's Passion.
This fruit is eaten raw, with spoon or in fruit salads. It is also used to flavour some cocktails and punches, as well as in juices, milkshakes, sherbets, custard and ice creams. It is highly appreciated in confectionery. The skin of this fruit, if dehydrated, is used as nutritional food for animals.
It is low in calories and rich in fibre, reason why it is indicated for people that follow a diet. Furthermore, it provides a great amount of vitamins and minerals.