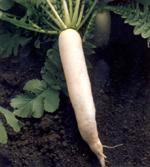 Radish (Raphanus sativus) is the fleshy " root" that is obtained from the plant with the same name. It has a pungent taste and it is consumed as a vegetable. There are varieties of spherical, conical, cylindrical and oval shape. They are covered by a rind of diverse colours; red, white, purple, black or red and white, although the most frequent varieties are red. The flesh is white except for some Asian varieties that are pinkish.
Actually, radish is not a "root', but the common name given to the edible part formed by the enlarged hypocotil.
It is not one of the most interesting vegetables for its nutritional properties. Its main contribution is rather insignificant, offering a refreshing and stimulating effect and a small quantity of vitamin C and B1.
Its culture in Spain is usually intended for the domestic and local use, although there are some runnings at commercial level. The output in most of the regions respond to the demand of the market and only the areas of the Levante are allowed to divert the produce to other consuming centres thanks to the quality of their climate, that enables the supply of this vegetable during the winter months.
It is usually consumed eaten raw, as a snack or part of salads, sandwiches or other meals. Its taste varies according to the variety, being the smallest and elongate of red and white colour the softest. Once grated it is commonly used in meat sauces. In many areas of the world the leaves of the plant are eaten when fresh, prepared in a similar way as spinach.
If they are stored in the fridge at 0ºC and 90-96% of relative moisture they last up to 3-4 weeks.
Each 100 g of edible fresh produce supply of around 12 kcal of energetic value, being these figures quite low, reason why they are included in slimming diets.