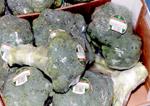 The broccoli prepackaging is recommended in order to avoid dehydration. For this purpose they make 250 to 500g packages using plastic materials. The transport is made in trays of wood or cardboard of different sizes, with a capacity between 6 and 8kg.

Although sometimes packagers do not do so, it is recommended to prepackage the broccoli, to avoid their drying. For the main inflorescence, plastic film (polyethylene) or plastic covered trays are used. For the sprouts, covered plastic baskets can be used. When prepackaging takes place, the weights of the package range between 250 and 500g.

A packaging form that has been very successful consists of a tray covered with plastic that contains half broccoli and half cauliflower, prepared to be cooked in the microwaves.

For the transport of the broccoli there are different sizes of packages, with capacities that range from 6 to 8kg, and measures up to 600x400x150mm. These packages are made of wood or cardboard, in which case they must be treated in order to avoid their absorbing humidity from the product. The transport of broccoli in bulk is made in packages of 3 to 12kg.