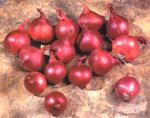 In France, the European country where there are more shallots cultivated, we distinguish several variety types. We find the gray shallots, the shallot of Jersey, mean-long shallots, long shallots and round shallots.

Gray shallots are elongate bulbs of gray skin and strongly dyed violet meat. They have a very strong taste that makes them one of the best types. A variety of this type is " Griselle'.

The shallot of Jersey bears large bulbs of less strong taste.

The mean-long shallots are rounded bulbs of copper-yellow skin and pink flesh. The taste is less strong than that of the gray shallot. Some varieties are Filer, Mikor and Arvro.

The long shallots are lengthy bulbs of copper-yellow skin and pink flesh. They have a slightly stronger taste than the mean-long type. The varieties of this type are Jermor, Trégor, Longor and Jersud.

The round shallots meat is more coloured than that of the long or mean-long types, and a mild taste.