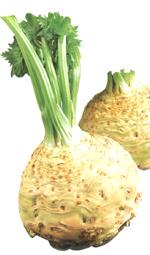 Celeriac is a large root, generally thick, spherical and surrounded by small secondary roots, that are usually remover for their commercialisation. It is of a ground-like brown colour and it has a hard and compact yellowish white flesh. It is very succulent, having a strongly marked celery taste, although sweeter and more perfumed.
Celeriac ( Apium graveolens to var. Rapaceum ) belongs to the Apiaceae family. It has stiff and pinnate leaves. For every 100 g of fresh product we obtain an energetic value of 18.17 kcal. Among minerals, the one in greater proportion is potassium.
Storage at 0-1.5ºC and 85-90% of relative humidity will enable to keep the produce for 7 weeks. Once at home, it is recommended to keep it in the fridge inside a perforated plastic bag.
In Spain it is barely cultivated; however, it is widely cultivated in all the western European countries, where it is a popular vegetable, specially in Germany, Italy, France, and England.
Cut in strips or grated, it is an ideal ingredient in salads and soups; it is also used in multiple stews, being an excellent garnish for meat and fish dishes.