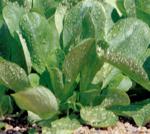 Salad corn is the plant with the same name given to the leaves used for human consumption. These leaves have a delicate and slightly acid taste. They are of a pale or dark green colour, intense and bright. They are usually concave and tapering towards the stem or the root, and they widen in the apex. They are grouped in rosette-like bunches. Its taste resembles that of nuts and its scent is slightly acid.
It is a wild plant of European origin. Normally, those cultivated are larger and more tender than the wild ones, but the leaves of the wild plant have a more pleasant taste.
Like all the plants (except for the reserve organs and seeds) it is mainly composed of water and a small amount of carbohydrates, being its protein content even scarcer. Its caloric value is very low, only 13,40 kcal for each 100 g of fresh produce. For that reason it is included in slimming diets. Its nutritious value is underlined by the amount of vitamins and minerals, chiefly vitamin A, C and folic acid.
It is a highly perishable plant. It lasts 2 days in the fridge, covered with an absorbent paper or inside a perforated plastic bag.
It is usually eaten raw as part of salads. Although less frequently, it can also be cooked as a vegetable. Long ago they were highly appreciated since they enabled the supply of fresh vegetables in winter, when raw vegetables were scarce. The disadvantage of this vegetable is the great amount of soil that makes them very difficult to wash. Nowadays, they are found already washed and ready to eat (the range of pre-washed and pre-cut vegetables) thus preventing all the problems caused by the soil.
The corn salad is very similar to watercress, and its consumption is extremely limited because it is quite known in the European markets, but highly appreciated by gastronomy lovers. At present, both watercress as corn salad are part of the usual supply of the companies offering ranges of pre-washed vegetables.