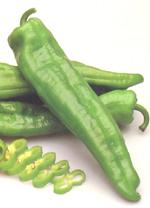 The pepper is a vegetable with variable shape, size and colour. It can be green, red, yellow, orange and even black!. Its taste can be sweet or hot and it is consumed fresh, as preserve, etc.
The pepper is consumed raw, stewed and roasted or as garnish in a great variety of dishes. They can be sweet or spicy peppers, as the cultivar Tabasco. Moreover, they can be intended for preserve or the manufacture of paprika and as colouring matter.
This fruit or vegetable is an excellent source of vitamin C, 100g represents almost 100% of the recommended consumption, 60 mg/day, and its energetic value is 32kcal. In some cultivars, the content of an alkaloid called capsaicin is responsible spicy or bitter flavour.
The fruits are hollow and voluminous berries, with different size and shape according to the variety. They are formed by two or three
carpels
, separated by a kind of uncompleted partitions along the fruit wall. They do not reach the centre, so the fruit has only a single cavity in which multiple round and flat seeds grow.
According to the variety or type of pepper, the fruit can be red, green, yellow and even other new colours that are brought in the market, like orange and black.
The prices and the demand on the one hand and the temperatures on the other are the agents that will determine the moment and regularity of the harvesting. In some cases, this will take place before the physiological maturity, whether they are green, red or yellow, depending on the requirements.
If the pepper fruit is put at 0ºC and 87-90% of relative humidity, it may last 4 or 5 weeks; such conditions may vary depending on the period of time between harvesting, handling, transport and marketing.