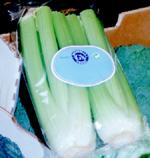 Bagged or in trays covered with plastic or flow-pack.

Celery may be packaged by units in translucent, polyethylene bags, perforated and with the ends open or with the top open and that part corresponding to the base of the plant should be a dark colour to improve the presentation. Celery is also marketed in bunches or lined up in trays covered with a stretch film or also in flow-pack.

Whatever the presentation, they arrive to market in shipping containers that may be wooden or cardboard boxes, with the latter preferable in European markets, generally weighing between 12 and 14kg, changing the number of plants per box depending on the size. There are preferences for different sizes in each market.