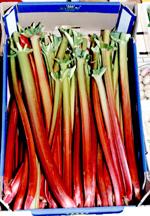 The types of celery are differentiated by their uses as 'celery to cut' if their aromatic leaves are used and 'celery stalks'. The latter has both white and green varieties as well as self-blanching.

Regarding the part of the plant to be enjoyed, they are distinguished by 'leaf or cut celery' (Apium graveolens var. secalinum) that is farmed for the aromatic leaves and 'shoot or stalk celery' (Apium graveolens var. sweet). There is also a third variety grown to consume the root, which is the 'celery-turnip' (Apium graveolens var. rapaceum).

In those varieties vulgarly called 'celery to cut' because the leaves are used as a condiment, there are the varieties De Dinant and D'Anvers Tardif.

There are two different varieties in the 'shoot or stalk celery' the cultivated green and the purple or white, that are also known as the variety Self-Blanching.

Green varieties (if 'white' stalks are desired, it is necessary to apply certain practices like blanching, application of covers of black plastic or increasing the planting density): Easter green-filled, d'Elne green, UTA type, Florida type, Florimart, Slow Bolting type, Easter type, June-Belle, Lepage green, Verdon, etc.

Golden and self-blanching varieties (more appreciated in certain markets in spite of their petioles being thin and a little more fibrous, being of lesser quality and taste and having less storage capacity that the green varieties): Full golden, Golden Barbier, Golden Self-Blanching, Lathom Blanching, Jason, Celebrity, Selfira, Chatteris, Golden Plume, Golden Spartan, Avon Resister, Avon Pearl and others.