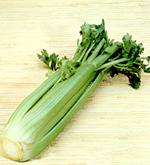 Celery has a bitter taste and a strong smell, and because of this besides consumption of the stalks, it is also used as an aromatic.
Celery is a vegetable with long petioles, meaty and succulent that are known as stalks. These may be eaten raw in salads or alone, fried, boiled, with sauces and as a condiment for soups, stews, etc. It may also be used as an aromatic, and besides the stalk, the leaves and the seeds are used. In the food and agriculture industry, celery is used in many different ways: such as preserved celery, dehydrated celery or even celery oil.
Celery is a source of vitamins B, C and A and two stems provide approximately 15% of the recommended daily intake of vitamins A and C. The bitter taste and strong smell is due to different components such as a glucose called apiina and an oil called apiol, although in modern varieties this bitter taste has been greatly reduced.
Celery consists of hollow shoots that are cylindrical, angular, sliced and small from which comes a rosette of alternate leaves, whose meaty petioles are the aforementioned stalks. There are different varieties according to their edible part and the white or green colour.
Harvesting dates can be between summer and mid-autumn, although it depends on the variety, the date of sowing and transplanting and of course, the climate in the region.
It can be preserved for two or three months in conditions with low temperatures (0.5-1ºC) and relative humidity between 90-95%.