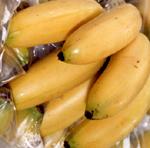 The fruit
The banana is a yellow lengthy fruit, found in the market in groups of three to twenty, similar to a triangular cucumber, oblong and normally yellow. Its taste is more or less sweet, depending on the variety.
There is confusion concerning the name. In all the countries of the world except Spain, it is known with one name if cooked and another name when talking about the ripe fruit that is consumed in fresh. In Spain banana is the fruit consumed in fresh and the other name does not practically exist. Nevertheless, nowadays any type of banana is used in many different ways and bananas belong to a sub-group of
cultivars
.
The consumption of fresh bananas as dessert is very usual, even fried, but other bananas, such as the male banana, are cooked and consumed when they are still green. A part of the ripe bananas is used to produce crunchy slices of dehydrated banana, or even banana flour. In some areas of Eastern Africa, ripe bananas are used to make a low alcohol beer. Other products are puree, juice, liquor and sweets.
Furthermore, this fruit is a good source of energy, with an energetic value of 88 to 95kcal/100g, and an important source of vitamin A and potassium.
Some varieties are distinguished according to their difference of size, colour (green, yellow or red), more or less sweet taste and their consumption.
Bananas can be harvested all the year round, there may even be three harvestings in a year and its amount depends on the season. Those intended for export are harvested green and taken in freezer boats to their place of destination. Later on, they mature quite easily in equipped cold storage rooms. During maturation, the fruit starch turns into sugar while the aromatic substances and the acids that balance sweetness are formed. Once mature, they should not be kept in the freezer because they loose taste and they can be damaged with the cold temperature .