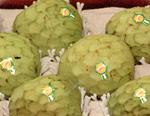 The custard apple is a tropical fruit, oval, conical, spherical or heart-shaped, 7.5-12.5cm of length and between 150g and 1kg of weight. It has a netted, green-coloured skin. The white pulp is fleshy, sweet, very aromatic and of sweet and somewhat acid taste. It contains multiple squashed seeds of black colour and 1cm long.
It is native to the Andes, from where it spread to Central America and some Mediterranean countries.
It is usually consumed fresh. It is also added to fruit salads and sherbets and it may be used to make jams, milkshakes or ice creams.
The custard apple is rich in vitamins and minerals. It stands out for its content in vitamin A and C, phosphorus and calcium. It is suitable for people with cardiac, hepatic or kidney problems.