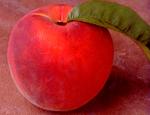 The peach is one of the most important fruits, as much in production as in value, belonging to the group of fruits of greater production in the world: apple, citruses and bananas.
The peach is a type of fruit which is botanically called drupe. Great size, rounded fruit, with a velvet thin and easy to peel skin. Its flesh is between a yellowish and whitish colour, sweet, juicy, giving off a pleasant aroma. Depending on the variety, the stones are broken.
Peaches are typical summer fruits; their availability centres between May and September. Nevertheless, we can eat this juicy fruit off-season thanks to producing countries such as China, Italy, Greece, Israel, South Africa and Spain.
The peach is a versatile fruit that can be used to garnish meats, stewed fruit, jams, etc. According to the type of fruit there exist two groups: those with soft flesh, freestoned, destined for consumption in fresh, and those with firm flesh, strongly adhered to the stone and destined both for consumption in fresh and for the industry, preferably for tinned fruit.
A very important peach variation is the nectarine, deeply spoken about in another chapter, although we can advance that it is a hairless peach, obtained by
genetic mutation
from the down's gene to the gene of smooth skin. Besides, they are lively coloured (between bright red and yellow) and are usually small. Contrary to what people think, nectarines are not crossings between a peach and a plum. It is an spontaneous variety of peach; peaches and nectarines are genetically equivalent.
Within the species to which the peach belongs, there is also another well-known variety, the Paraguayo.
There also exist white pulp varieties, with or without streaks, with greenish and/or reddish grooves, yellow flesh, total or partially adhered to the stone. Varieties such as the pavia type, with a hard or semi hard flesh adhered to the bone, are also well-known.