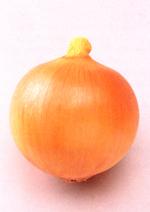 The onion is an underground, eadible bulb that grows in the plant that bears the same name. It is a vegetable of Asian origin cultivated since 6,000 B.C. From Asia it spreaded to Europe, and from there to America. At the moment, there is a wide range of varieties, that can be classified according to the colour of the bulb, the shape, size, use, origin and earliness. It is used in many ways for cooking, both raw and cooked. Moreover, it has various medicinal properties.
The onion belongs to the Liliaceous family; its scientific name is Allium cepa. It is one of the eldest cultures known; the Simerian civilization, in 6,000 B.C., already knew it. Its origin is located in Iran and Pakistan.
The onion is a tunic bulb, which means that it is formed by several layers, as we can see if we cut it. These layers are concentrical succulent leaves. They can have different shapes, sizes and colours, ranging from white to red and yellow.
There are many onion varieties, classified in different types. They may be graded according to their use, flavour, colour, shape or earliness.
The onion is consumed raw, fried, boiled and roasted, almost always as garnish. Several by-products are also used: dehydrated or the food nutritional industry as seasoning in various foodstuffs; the onion powder is used to make onion salt; the onion oil is diluted in vegetal oil or capsulized. There are also tinned and bottled onions, frozen onion rings and pickled onions. Tender onions are marketed fresh or in bunches.
From the very old times, medicinal properties have been given to the onion. Its contents in minerals and vitamins is relatively low, but it is rich in essential oils containing sulphur. There are multiple benefits conferring this vegetable, among which are the following: it is bacteriostatic, it activates the bile secretion, it stimulates the intestine's digestive activity, it lowers the blood pressure, it helps to regenerate blood in case of serious anemia, it is diurtic, expectorant and an intestine disinfectant. It is useful to fight rhinitis, facial neuralgia, throat infections and pharyngitis, pain in the ears, colds and infectious diseases. Moreover, it is antiseptic, vermifugal and it reduces the level of glucose in blood.