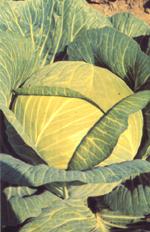 The cabbage is a vegetable highly appreciated in the traditional cooking of many countries, since it is known from very old and is supposed to have diverse healing properties. They have spreaded worldwide, and at present they are consumed in multiple ways, although they are usually cooked. The head is formed when the leaves press together onto the plant's main bud.
Cabbages are one of the eldest vegetables known. They were already cultivated by the Egyptians, and thought of as a medicinal plant. The most usual way to consume cabbages is stewed or cooked, although raw cabbage is also included in salads. In Germany it is highly appreciated: they make chucrut, which is fermented cabbage.
Cabbages are spherical masses of head shape, although they can also be circular or oblong. The tighter and more compact they are, the greater their quality, since the leaves inside are more tender, white and succulent.
From the nutritional point of view, cabbages supply important amounts of vitamins and minerals. They also contain small quantities of sugar, starch, proteins and minerals. Their sugar content makes them the leaf vegetable which can be kept for longer time. The rest of vegetables of this type are kept for very short time, because they lack sugar and, therefore, reserves.
They are cultivated everywhere in the world, being China, India, Russia and Korea the main producing countries. Asia accounts for 65% of the total world production.
There are multiple varieties of cabbages, classified according to their harvesting period. There are summer and winter varieties, basically.