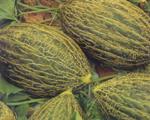 Melons are rounded or elongate, of yellow or green rind, sometimes combined depending on the variety. It has an aromatic, juicy and sweet flesh, being an ideal fruit to fight thirst.
The melon is a globose, rounded or elongate fruit, 20 to 30cm long, weighing up to 2kg. The furrowed or netted bark may be of a pale yellow colour, green or combined according to the variety. The pulp is aromatic, juicy and sweet, of white or greenish white, yellow and orange colour. Inside it we find multiple yellow-rind pips.
Melons are mainly consumed fresh as table dessert, although it is also used for preparing many dishes like salads and snacks, combined with ham, for instance. Besides, jams, purees, custard, yoghurts, liquors, sherbets, etc. are processed from melon. The rind is used as container for fruit salads; the seeds are widely consumed in Africa; from the seeds we also obtain oil for consumption or used in illumination.
Melons are rich in water and carbohydrates, containing some minerals and vitamins. It is an ideal fruit to fight thirst.
The melon season in the N hemisphere extends from July until September, although it is also consumed off-season thanks to the great number of varieties of this fruit and their greenhouse culture.