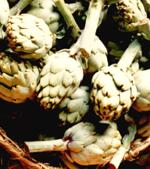 The artichoke is an immature inflorescence of green or purple colour. It is consumed in many different ways and its taste is highly appreciated. It is mainly cultivated in the Mediterranean basin and in some areas of the United States. It stands out for its content in cynarin, a substance that protects the liver. Furthermore, it reduces the level of cholesterol and it is diuretic.
The artichoke is a bulbous or long inflorescence of 12cm of diameter that is born in the plant of the same name. It is composed of a green or purple base; the flower heads are surrounded by protective leaves that are grouped around them. The colour ranges from green to purple; this characteristic leads to the distinction of the varieties. It has a sharp and somewhat bitter taste. It is consumed unripe, because when it blossoms there appears a purple down that makes it inedible.
The artichoke comes from a species of thistle that the Greeks and the Romans cultivated in the Mediterranean area. The breeding that was carried out during the Middle Ages brought about the artichoke that we know nowadays.
It is consumed cooked, roasted, fried or even raw, in vegetable stew or sautéed with peas and ham, etc. They are also preserved, natural, in oil or vinegar. They are also suitable to be frozen, keeping their organoleptic properties. They are frozen in many ways: artichoke bases, laminae, in chunks, hearts in halves or whole.
The artichoke is chiefly cultivated in the countries of the Mediterranean basin and scarcely in some areas of the United States, like California.
Its nutritious importance relies mainly on the cynarin, a compound that is found in a significant quantity in artichokes; it has beneficial properties for the liver, kidneys and the gall bladder.