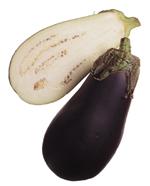 Aubergine(Solanum melongena) is a vegetable of variable shape, from spherical to ovoid and oblong. It is of a purple and more or less dark colour, white with white purple stripes, yellow, orange or even black. The firm and smooth flesh is always white and contains multiple edible seeds of the same colour. Its meat is consumed as a vegetable, fried or sliced and fried in batter.
It has a high percentage of water and a very low content of glucids, proteins and lipids. It is highly digestible when cooked and peeled. The most tasteful aubergines are usually the most tender and firm, around 5-8 cm of diameter. The largest and ripe aubergines are usually more fibrous and bitter. Thus, the vegetable is usually harvested when still unripe in order to avoid bitterness, the growth of seeds and the hardness of the skin.
It is extremely sensitive to temperature changes, reason why it is recommended to keep them in the fridge. It must never be wrapped in plastic film, since it prevents respiration. It must be kept as isolated as possible, since it reacts with the ethylene produced by other vegetables and fruit, accelerating its ageing and causing the loss of the green colour in the peduncle, which is a symptom of freshness. At temperatures of 4-6ºC they are kept in perfect conditions for 7 days or so.
Their caloric value is scarce, providing with 15-17 kcal for each 100 g of fresh produce; they are used in slimming diets. They are a good source of potassium.
Aubergines are characterized by their smooth taste and their versatility of use. It is recommended to put salt on them before cooking to remove the bitter juice and reduce moisture. In this way the pulp is denser and absorbs less quantity of oil. A little bit of lemon juice is also added with the purpose of eliminating the bitter juices. It is a very traditional ingredient in Greek and French cookery. In Spain, it is part of the Catalan dish known as escalivada, roasted with other vegetables like pepper and onion. They are usually eaten stuffed with meat, vegetables, ham, etc, cooked au graten with cheese before they are served. They can be used to make purée and multiple preserves, both sweet and salty, like aubergine jam; they are also preserved in oil.
Aubergine is also a classic in the Arab cooking. In the southern areas of Spain its consumption is also very usual.