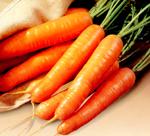 The carrot is one of the most cultivated vegetables in the world. Its consumption has spreaded widely, since at present it is available all the year round. The part of the carrot that we consume is its root, of which there are various shapes and tastes. It stands out for its content in carotene and vitamin A, B and C.
Asia is the greater producer, followed by Europe and the United States. The world production of carrots has increased in the last years, reaching 18,500,000 tons in 1998. At present it is available in the markets all the year round since the climates of the diverse countries allow a culture rotation.
The part of the plant that we consume is the root, of which there are different varieties, so the taste and the shape vary, although they are always orange. For fresh consumption, people prefer the cylindrical shape.
It is an important product in nowadays modern diet, due to its content in vitamin A, B and C; it is highly appreciated for its carotene content, precursor of vitamin A. Among the diverse uses that it has been given throughout the history, apart from foodstuff, we must highlight the sugar extraction or the use of the seeds as a medicine by Celts and Romans. It is intended for fresh consumption, for the industry, for purees, frozen, tinned...