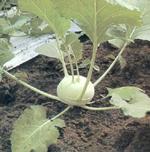 The kohlrabi belongs to the cabbage family, although, in general, it is not known. It is consumed mainly in the countries of the north of Europe, like Germany, Switzerland and Austria, cooked as well as raw in salads. It contains vitamins and minerals, and it is low in calories.
Although the young leaves can be consumed, it is mainly produced because the stem's base grows like a tubercle, turning into white, green or red. It is harvested when it has approximately the size of a tennis ball. Its flavor is similar to the turnip.
It is an uncommon culture, although kohlrabi it is highly appreciated in the Nordic countries, representing an alternative to the turnip culture in dry areas, since it is less demanding for water. It is cultivated mainly in Germany, Austria and Switzerland.
It is cooked for soups and salads, to which it provides a spicy flavor. Normally it is peeled, cut in dices and boiled, although it can also be grated for salads. The leaves are cooked and eaten as a cabbage.
It contributes with vitamin C, A, B1, B3 and B6, and it is rich in phosphorus, calcium and magnesium. It is recommended for diets, since it is low in calories and it hardly contains fats. It has a low sodium level, thus people with high blood pressure can also consume it.