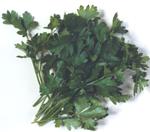 The parsley may have straight or curled leaves. The straight leaves are mainly used to flavour in cooking, whereas those with curled leaves are used to decorate multiple dishes.
The parsley is consumed mainly fir its leaves, although there are some
cultivars
that develop a tuberose root that can be consumed; nevertheless, it is hardly used. The parsley is a common seasoning to flavour many dishes, for making multiple sauces, stuffings, omelettes, etc. and as dressing to decorate roasted meat or fish.
It contains a great quantity of vitamin C; 100g of edible fresh weight supplies 166-220mg of ascorbic acid. The leaves are rich in a volatile oil whose active principle is apiol.
The parsley leaves are, according to the variety, strongly divided, smooth and of intense green colour and aromatic, or curled and less aromatic, but highly decorative.
The parsley is harvested in summer and autumn if it is sown at the beginning of spring and in winter if it is sown in the middle of summer. It may be kept up to two months it the temperature conditions and relative humidity are controlled.