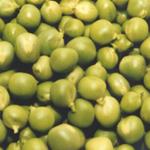 The pea, Pisum sativum, is a herbaceous plant belonging to the family of leguminous plants. The seeds are usually eaten green, dry, in preserve or frozen. The pod of some species is consumed along with the seeds, like French beans.
Peas represent an important source of proteins, with an average biological value. The dry seeds are hypercaloric and rich in iron.
It is one of the oldest edible plants and probably one of the first cultivated. It is a pod of green colour (pale or dark, according to the variety), more or less compressed, in many cases cylindrical and tapered to the ends. The pods are usually 8 to 10 cm long, even and bright. They contain an undetermined number of seeds (7-9) that are the edible fruits; the grains are tender if they are harvested before they reach maturity, with a sweet taste when they are consumed raw.
Peas are used in multiple stews or raw in salads, sautéed with ham, fried, or as a tasty garnish for meat, fish or game.
Many processing industries have been established near the production areas. Peas are ideal for canning and freezing, since they keep their
organoleptic properties
.
The peas are green seeds, therefore they are unripe seeds and they have a high nutritious value. Their consumption is very important for the organism. They contain 7% of protein and 12% of carbohydrate, their caloric value is 80 calories for each 100 grams of fruit. The pea is a highly powerful food; it has a low vitamin content.
Trade in fresh is in decline, perhaps because we have to pod the fruits. In spite of it, the consumption of this fruit is increasing, as well as the production, being the industry the main client for farmers.