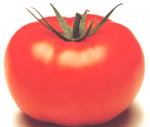 The tomato is the vegetable product of greater economic importance. More than 90 million tons are produced every year everywhere in the world. The main producing countries are China, the United States, Turkey and Egypt. Besides, it is one of the vegetables with more diversity of uses. Apart from the raw consumption, it is also cooked, stewed, fried, in pickling, as sauce or combining with other foodstuffs. It is also processed in the industry dispatched whole, as paste, juice, powder, etc. At present, 25 and 30% of the annual world production is intended for the processing industry.
In spite of originating from South America, its culture has spread all over the world, although the greatest yield is produced in warm climates with good illuminance. The summer must be long, with temperatures between 23 and 24ºC during the day and 14ºC at night. Tomatoes prefer slightly acid soils.
The fruit is a berry, thick and fleshy with two or more segments, of different shape and colours according to the variety. Its weight ranges from few milligrams to 600 grams. It is usually red, although there are also yellow tomatoes. The diameter of the fruit ranges from 3 to 16cm. The varieties of very small size are called cherry tomatoes.
There are multiple varieties of tomato, and their number grows continuously, obtaining plants with more resistance to diseases, higher yields and fruit of better quality and conservation.
In countries such as Spain, they are cultivated all the year round, thanks to the climate and the use of greenhouses, which allows to obtain tomatoes of extra early cycle (from mid February), of early cycle (from mid May), of normal cycle (throughout the summer) and of late cycle (from September to February).
Nowadays, tomatoes play a fundamental role in the daily diet, both for their availability and versatility as for their high nutritious value, mainly in mineral salts and vitamins.