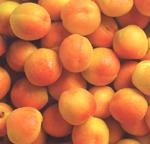 The apricot is a fruit that resembles the peach but much smaller, pale yellow or orange with some red shades. The pulp is not very juicy, it has fibre texture and farinaceous consistency when the apricot is mature. It is mainly consumed fresh, although it is also used to make some by-products like stewed fruit, jams, juices and dried apricots.
The apricot belongs to the family of the Rosaceae and it usually has a spherical shape although it can also be flat, of about 3 cm of diameter. The apricot is very similar to the peach although it is smaller and paler.
The colour ranges from pale yellow to orange and many apricots show a smooth red shade in the zone where they have been exposed to the sun. The skin is downy, the pulp is not very juicy and it has a pleasant firm texture that tends to be somehow fibrous and farinaceous when the apricot is very mature.
The apricot has a seed with almond shape covered by a hard woody bark or endocarp, that is usually separated from the flesh. This almond or embryo has a bitter flavour and it is not edible; some varieties are even poisonous, due to their content of a substance called amygdalin, of which one of the most active poisons can be extracted: the cyanic acid.
Apricots must be consumed mature since only with a good exposition on the sun we can obtain delicious fruit. The best time to consume apricots in the N hemisphere is between July and September.
The apricot is consumed fresh as dessert fruit or it is used to process different by-products. When they are consumed fresh, it is recommended to wash them previously, so as to remove impurities and dirt.
Among the by-products we find jam, stewed apricots, juices, tinned apricots and the famous dried apricots. They are obtained from fresh apricots subject to processes of drying in rooms at 65-70ºC or under the sun after peeling them. This increases the time of preservation. As their water content decreases, there is an important concentration of nutrients; therefore, the nutritious value of dried apricots is higher than that of fresh apricots.