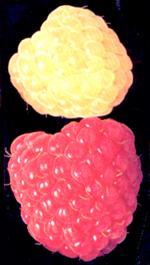 There is a great variety of raspberries, distinguished by their different yellow, black and red colours. There are also orange and white varieties. However, raspberries are also classified according to the period of the year in which they fructify. The great majority are summer varieties although some of them fructify in autumn or in any season. They have a smaller output, but they help to extend the harvesting period of this fruit.

The red raspberry cutivars come mainly from the wild raspberry shrub (Rubus idaeus) that has been improved and crossbred with other spontaneous species. These red raspberry cultivars are divided in two groups: the uniferous, that fructify once a year and the biferous, that fructify in spring and autumn. The latter are also called re-flowering and are suitable for "off-season' production.

The most cultivated species are "Rubus idaeus" (red raspberry), "Rubus strigosus" (wild raspberry), "Rubus occidentalis" (black raspberry) and "Rubus neglectus" (purple raspberry).