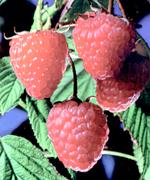 The raspberry (Rubus idaeus) is the fruit of the raspberry shrub or bramble. This plant grows wild in several regions of Europe, although it is also cultivated, becoming quite an important crop. It is a small, conical or round fruit with a velvety red or yellowish skin. The pulp is very aromatic and has a bittersweet taste. It is eaten raw or used to make jam, jelly and drinks. It is also found frozen.
In fact, this fruit is made up of multiple small and round
drupelets
, each one of them containing a seed, gathered in a small conical receptacle.
They are known as the forest strawberries and their taste is very pleasant although it looses intensity a few hours after the harvesting. The cultivated varieties are usually larger but with less aroma and taste than the wild ones. The output is also greater and they produce more juice than the latter.
Raspberries have a moderate amount of glucids. Their content of protein, lipids and energetic value is also low, 26 kcal for each 100 g of fresh produce.
It is a highly perishable fruit. In order to increase their preservation they are kept in the fridge for 2-3 days. Besides, they can be frozen. The optimal relative moisture ranges between 90-95%.
Fresh raspberries are usually consumed alone or with cream. They are also used in confectionery, to aromatize desserts or to prepare juices and brandies. The raspberry juice is used to improve the taste of chemists drugs. This juice, diluted in water, becomes the raspberry refreshing drink. Raspberry jam and liquors are also made from this fruit. The red and large varieties with few seeds are used for all these applications.