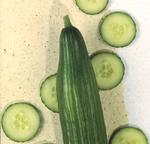 Cucumber is a summer vegetable, with elongate shape and 15cm long. Its skin is of a green colour, turning into yellow in maturation. At present, it is found in the European markets all over the year. Fresh or pickled cucumbers are also available. For pickling they use the small varieties of cucumber, that are commonly known as gherkin. Gherkins do not usually exceed 10cm long; they are not the only varieties used for pickling, although they are the most suitable for this process. When they are fresh, we must choose the green produce without yellow spots. Cucumbers with an excessive size usually have a bitterer taste and soft texture.
Slightly unripe cucumbers with a thin skin are consumed without peeling. But it is always advisable to peel them and wash them well before their consumption. It is eaten in salads, cut in strips, cooked in soups and stews or in purée.
During the process of maturation, cucumbers turn into a yellow colour and their seeds grows. A good quality cucumber must be free of well-formed seeds, therefore they must be harvested before the seeds start their hardening. The harvesting must take place when the development is at the middle of its total length and the colour corresponds to a dark green with a tendency to paling.