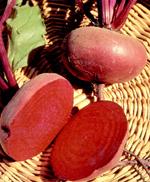 Beetroot is the large and fleshy root growing in the plant of the same name, eaten as a vegetable. Its superficial, thin and smooth skin has a wide range of colours, from purple-pink and reddish-orange to a brownish tone. The pulp has a sweet taste and it is usually of a dark crimson red colour with purple tinges. Sometimes it has white concentric circles; this is an undesired characteristic. However, some beetroot varieties have white or yellow flesh.
There are three varieties of beetroot; the common or red beetroot is the one consumed as a vegetable. The other two are sugar beet and mangelwurzel. The first one is of a white colour; it has been cultivated to obtain sugar since the XVIth century. Mangelwurzel is chiefly used as cattle food.
Beetroot has a low energetic value with a scarce content of lipids and proteins. Each 100 grams of edible fresh produce provides with 25-41 kcal of energetic value. Apart from water, the greatest components of this vegetable are carbohydrates. The vitamins of group B are important, specially the folic acid, being the latter found in greater amounts. However, it is one of the vegetables with less vitamin C and A content.
It is not recommendable to freeze raw beetroot since they soften during defrosting; however, it is possible to freeze them once boiled. They are kept up to 4 or 6 months at 0ºC and 95% of relative moisture.
Red beetroots are normally used for human consumption. They are included as an ingredient in several processed dishes, chiefly salads. The fresh roots are usually consumed cooked as a vegetable. Once cooked they can be preserved in vinegar (pickled) or sugar. This pickled vegetable is the base to obtain beetroot wine and a hot sauce. From beetroot we also obtain betacyanin, a natural pigment used for obtaining a colouring matter at industrial level. This colouring is used in food industries to colour several products like soups, liquors, ice creams, etc.
They are very difficult to cook, since they must be boiled for a long time. This has been one of the reasons make pre-cooked beetroot one of the first products included in the new range of pre-cooked food.